Message from the King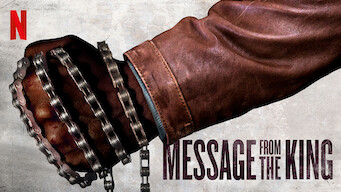 2017
TV-MA
103 min
On a relentless quest to avenge his sister's murder, a man from Cape Town infiltrates a sprawling network of lowlifes and elites in Los Angeles.
Genres:Independent Movies, Thrillers
Director:Fabrice Du Welz
Cast:Chadwick Boseman, Luke Evans, Teresa Palmer, Alfred Molina, Natalie Martinez, Tom Felton, Dale Dickey, Sibongile Mlambo
Production Country:United Kingdom, France, Belgium, United States
Click to Rate:
Added to Netflix:August 4, 2017
From the Daily Dot

Here lies a run-of-the-mill genre exercise. It's about a man, Jacob King (Black Panther's Chadwick Boseman), who comes from South Africa to L.A. to look for his sister, Bianca. In these kinds of movies there is only one possible outcome for Bianca. After Jacob confirms her fate at a morgue, his search-and-rescue mission becomes one of revenge. What follows are a series of workmanlike fight scenes devoid of originality to break up the predictability.